Leiden has a cozy city center with a few large shopping streets and dozens of hidden boutiques, specialty stores and trinkets shops. If you shop on Saturday, you can also visit the cozy Saturday market along the Nieuwe Rijn.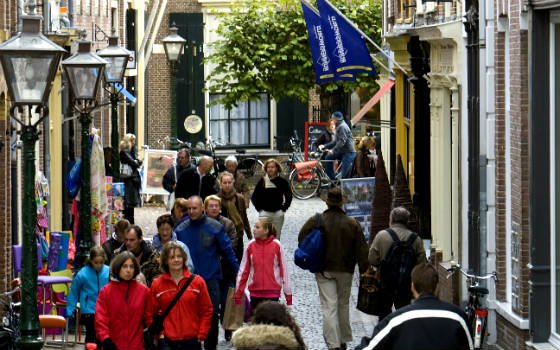 Shop at the big chains in the Haarlemmerstraat. Looking for vintage and galleries? Do not skip the Pieterskwartier.
Shop for special wines, books and antiques in the Breestraat.
The great shopping streets of Leiden
The Haarlemmerstraat is the main shopping street of Leiden. Here you will find a colorful collection of shops for clothing, jewelery, toys, shoes, electronics and sports equipment. In addition to major brands, specialty stores offer leather, children's clothing and coffee.
Another big shopping street is Breestraat, where you can shop at caterers, wine shops, bookshops and antique dealers. Also along the Nieuwe Rijn and the Botermarkt are numerous shops with the latest living trends to kitchen supplies.
Stroll through the city center
The Pieterskwartier an idyllic neighborhood in the old town of Leiden. Stroll around the Pieterskerk through the numerous alleys and streets. Second-hand shops, courtyards, restaurants, cafés, antique dealers, art shops, galleries and much more are hidden in the Pieterskwartier. You never know what you find around the corner. Also the Doezastraat is worth to walk for.